Alvor: My second home​
I am back with another travel blog! I'm not a very frequent "blogger" but I feel like I've blogged about all the fundamentals of fitness so if that is what you're here for, check out some of my favourites under the 'Blog' section
I have a crazy vision of travelling the world as a travel blogger but I'm going to share a place very close to my heart and that I feel like I know inside out... Alvor in Portugal. My family run a business there and I used to live there in 2011, plus I visit as much as I can and feel like I should have a Ryanair loyalty card for Faro airport at this stage!
After spending 2.5 weeks in Alvor recently, I received so many questions looking for advice on where to stay and what to do so I decided to blog about it.
Alvor is a traditional fishing village in the South of Portugal. Unlike some of the other towns in the Algarve, Alvor still has the authentic Portuguese vibes while still containing enough accommodation, dining and activities to cater for the booming tourist industry.
How to get there
Alvor is in the Algarve in the south of Portugal and Faro is the closest airport. Both Aer Lingus and Ryanair fly to Faro from Dublin and Belfast year round with seasonal flights from Derry, Cork and Knock. Alvor is about 45-50 minutes from the airport if you get a direct transfer on the main road (A22). There are lots of transfer companies but some will stop on every resort on the way to Alvor which will take hours or some will take the R125 to reduce toll costs and this adds on a lot of time to your journey. I would recommend booking with A22 Transfers. It would cost in the region of €50-€60 and can be booked directly on the website or on their Facebook page.
Where to stay
I usually stay with family but I would have heard honest reviews from all the tourists I've spoken to over the years so here are just a few I'll mention.
Most of the accommodation in Alvor is slightly outside of the town which means a little bit of a walk away but taxis are so cheap (about €4 to most hotels).
The Alvormar is a hotel in the centre of the town. It's a little dated but can't fault on location and I've heard some of the rooms have been updated.
For families, Club Alvorferias is a great budget stay with two big pools and kids clubs etc. It's about a 10 minute walk from the town centre which is a nice downhill walk in the evenings and only a short taxi journey back up.
If you are looking for something a little nicer, the Dom João II and the South Beach are both on the higher end of the price scale but worth it. Any of the 'Pestana' hotels are usually really nice.
There are also a huge amount of private rentals so it is worth getting in touch with A22 Property Management, OwnersDirect.co.uk, AirBnB or there is even an Alvor Holiday Rentals group on Facebook.
Where to eat
Oh wow, how much can I write in this section. Alvor has a huge selection of fabulous restaurants with cuisines from all over the world as well as fresh fish straight out of the harbour and onto your plate.
First things first, before you book your flight, book Ruccula. For years, Ruccula has been the most popular restaurant in Alvor and it is very hard to get a table in the Summer if you haven't booked weeks in advance. It is a family run restaurant and it is the same staff serving since I first went there 5 years ago. We usually get a selection of dishes for the starters but a special mention to the cod goujons. For the mains - the fillet steak is just perfection and it comes with an option of sauces - I usually get pepper and garlic sauce on the side. The lamb is another favourite of the main courses but I find it hard to choose anything besides the steak! The sides are so good too - cheesy gratin potatoes that are served alongside chips and vegetables. The staff are so friendly and there are some small touches, e.g. Sorbet to cleanse your pallet between courses, that make Ruccula the most popular restaurant in Alvor.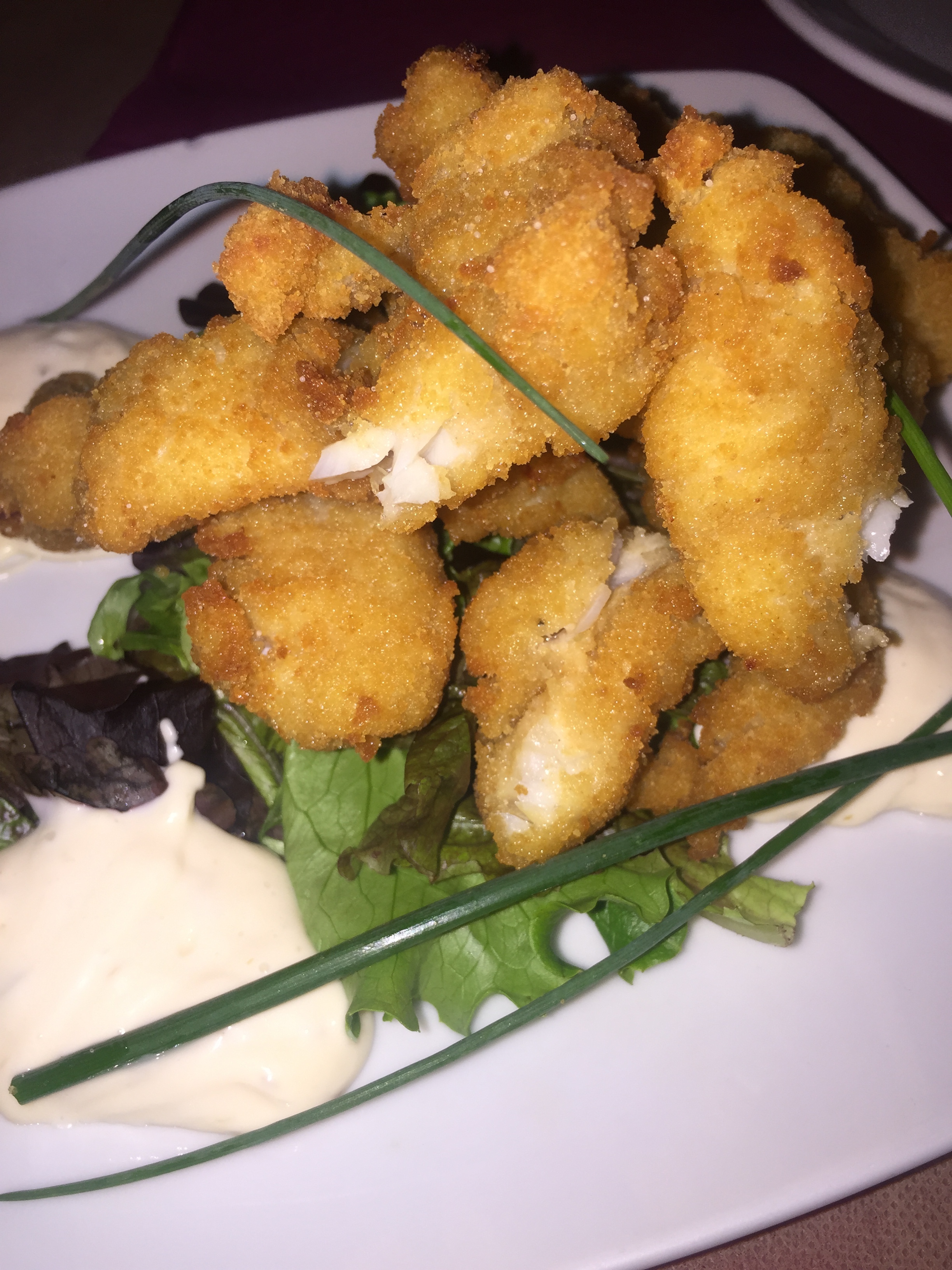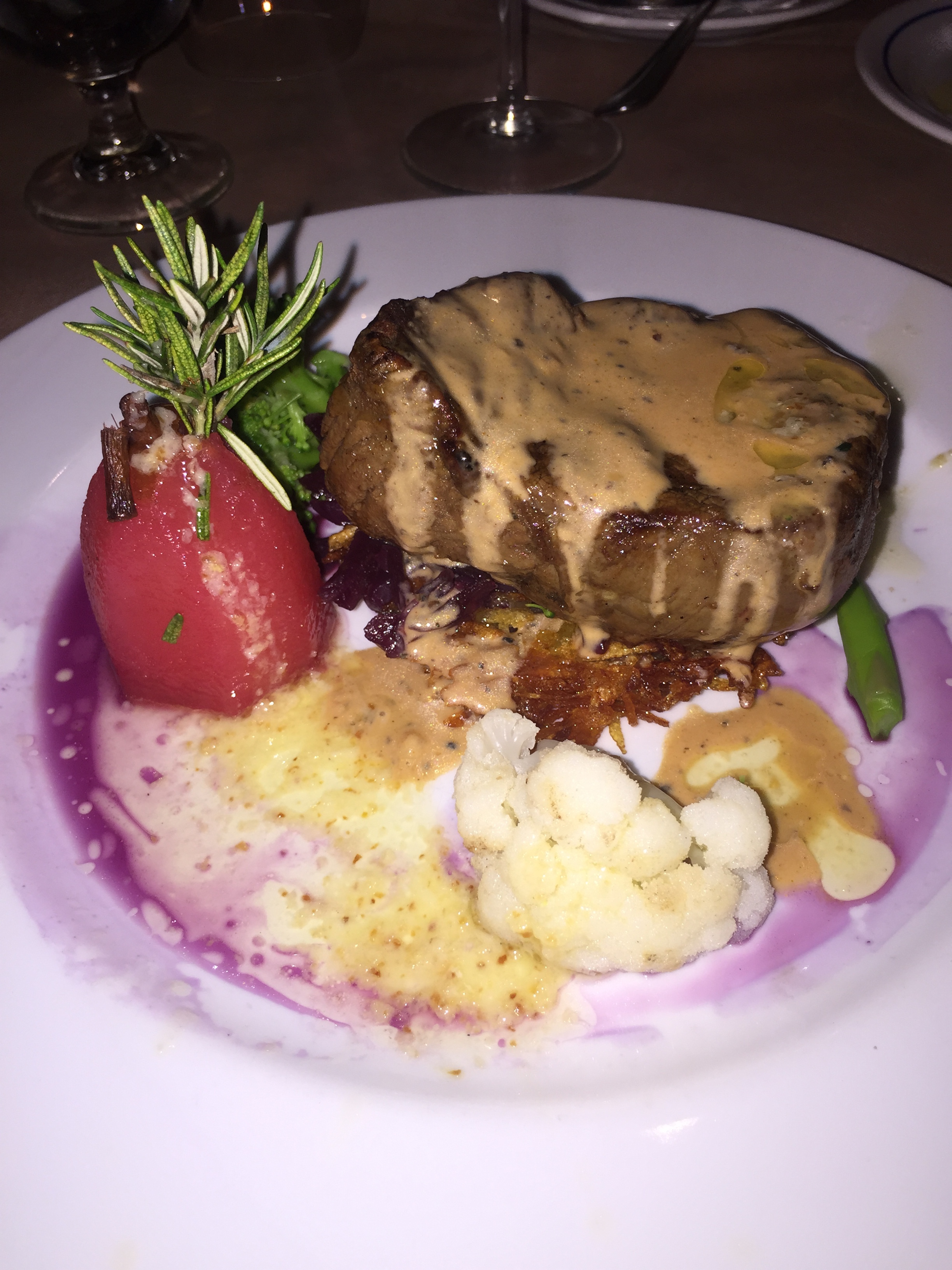 A new favourite of mine is Gastrobar 13. Previously this was simply Bar 13 and it's selling point was the cosy garden out the back with its mismatched furniture and fairy lights. But in the last few years it has been relaunched with a full tapas menu while still keeping the cosy setting. The first time we tried it we were blown away. The menu looked amazing and when we tried to narrow it down to a few dishes, our server suggested we had ordered a bit too much! Every dish I tried I loved! I think one of my favourites was the bowl of melted cheese with the bread to dip! Actually one of my friends doesn't like cheese and found the menu a bit limited as there is cheese in a lot of the dishes. This also means that you will end up having quite a calorie dense meal. I didn't go to Bar 13 on my last visit because I was on competition prep!
For a cheap, cheerful and authentically Portuguese meal, I would suggest the Churrasqueira Mercado de Alvor (or as we call it, "The Market"). The speciality there is grilled chicken piri piri (this is the type of Portuguese food that Nando's is based on) but they also do great-value fresh fish. I often got the Seabass while on prep - so fresh and tasty and you see it grilled beside your table. Don't expect much in terms of a fancy restaurant here. It is essentially a restaurant which has evolved from picnic tables beside the grill at the market. But it is great value and a perfect option for lunch or a casual dinner.
For a fancier authentic Portuguese meal, we would often go to A Lota for fresh fish. One of my favourite dishes is fresh clams. They are usually harvested in the Alvor bay and cooked in oil, garlic and coriander. Delicious! Many of the restaurants down near the harbour would serve similar fresh seafood. Another favourite of ours would be O Arco Da Velha.
The locals go to a restaurant called Buganvília which is known for its steak on the stone. It is always busy and there is usually football on the TVs so it can be a little hectic but the food is good.
There are also top quality restaurants covering other cuisines. I love Indian Hut on the Main Street, and D'Alvinos or Ciao Baby for Italian.
Where to drink
If you're looking for night clubs that will take you into the sunrise, you're better off hopping into a taxi and going to Praia De Rocha (about €10 in a taxi) because Alvor's nightlife is good but not crazy - which I love.
There are lots of Irish people in Alvor and lots of Irish bars. It's a bit of a chicken and egg situation - I'm not sure which came first! Luckily they are not cheesy Irish bars, but a place where you can go for a nice drink and a sing song in the wee hours. Hickeys has a lovely roof terrace which is my second favourite place to watch Dublin play (the first being Croke Park). The Church Bar has recently opened beside the church (shocking, I know) but it's another nice bar run by a Dub with a lovely seating area out the back.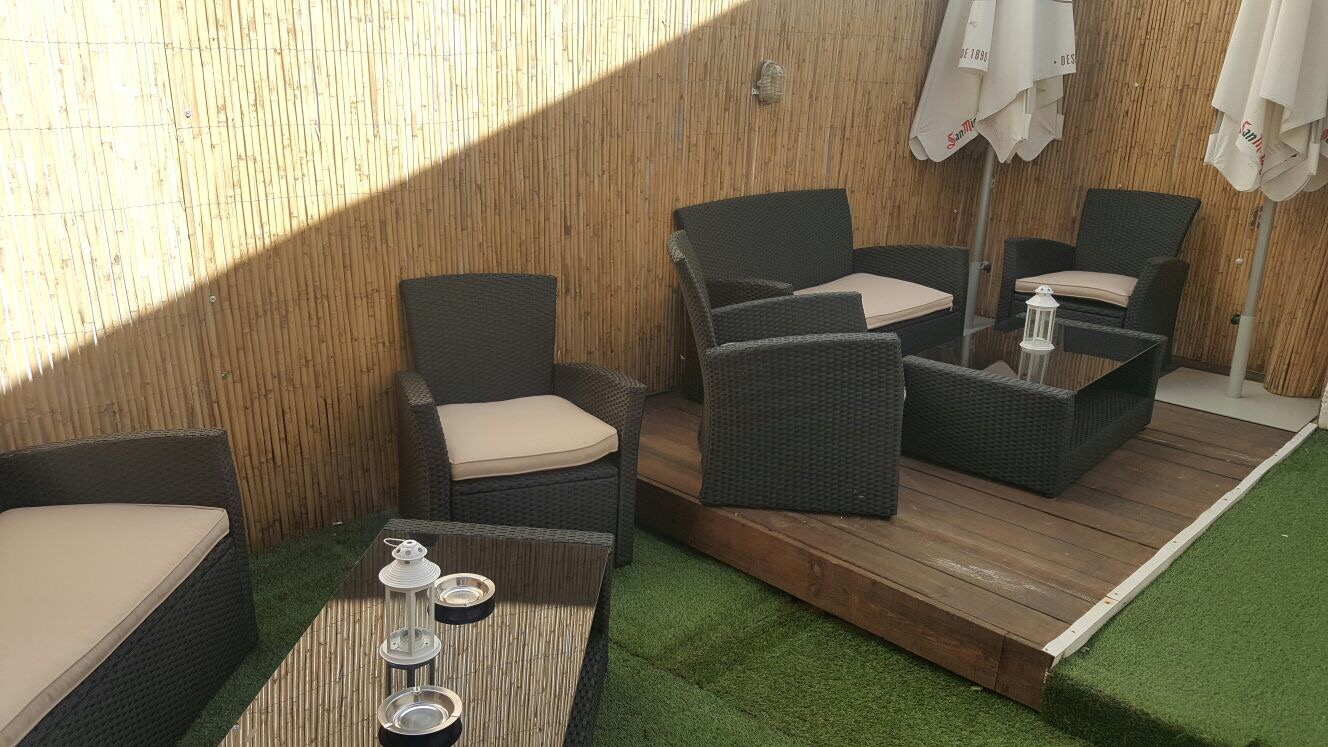 If you go away to get away from Irish bars, then I would suggest going to Mouriscos for cocktails. They have a huge selection with top trained cocktail makers. Sunset is another fun cocktail bar just off the Main Street with a great value happy hour every evening and a wide range of novelty glasses (not the type you drink out of!). Sports bar is the party bar and that's where you'll go for a late night boogie. It's fun and loud and open until 4am!
What to do
This is where I might be especially biased but Alvor Boat Trips was set up by my aunty Roisin and her husband Luís, who is an Alvor local. They have worked so hard over the years and the business has built an amazing reputation. Roisin always said "Our aim is your recommendation" which resulted in so much success for them. More recently, several more boat trip companies have popped up in Alvor but luckily the likes of Trip Advisor and word of mouth has meant they are as busy as ever. I worked for my aunt for two summers in 2010/11 and learnt so much from her. Unfortunately Roisin passed away last summer but my sister, also called Roisin, now lives in Alvor and helps to run the family business.
They do a range of types of trips. They are famous for their Silves River Trip. This is a half day trip up the river, inland, to Silves. There is lunch/dinner and drinks depending on the time of the day and you are given time to explore the town of Silves.
Luís has been doing fishing trips for the last 20+ years and this is a fun morning to go try catch your lunch with some experienced fishermen. There are 4 hour and 2 hour trips (for kids).
The most popular and frequent trip would be the coastal cruise which takes you out to the sea and along the stunning Algarve coastline with the opportunity to swim and snorkel around the caves and grottos.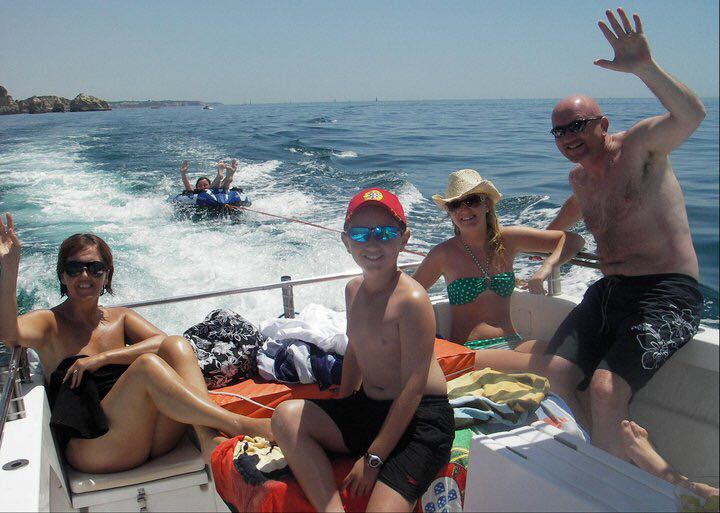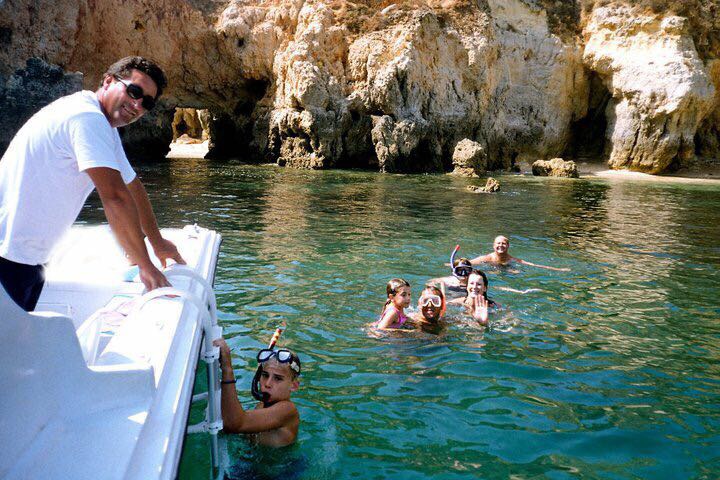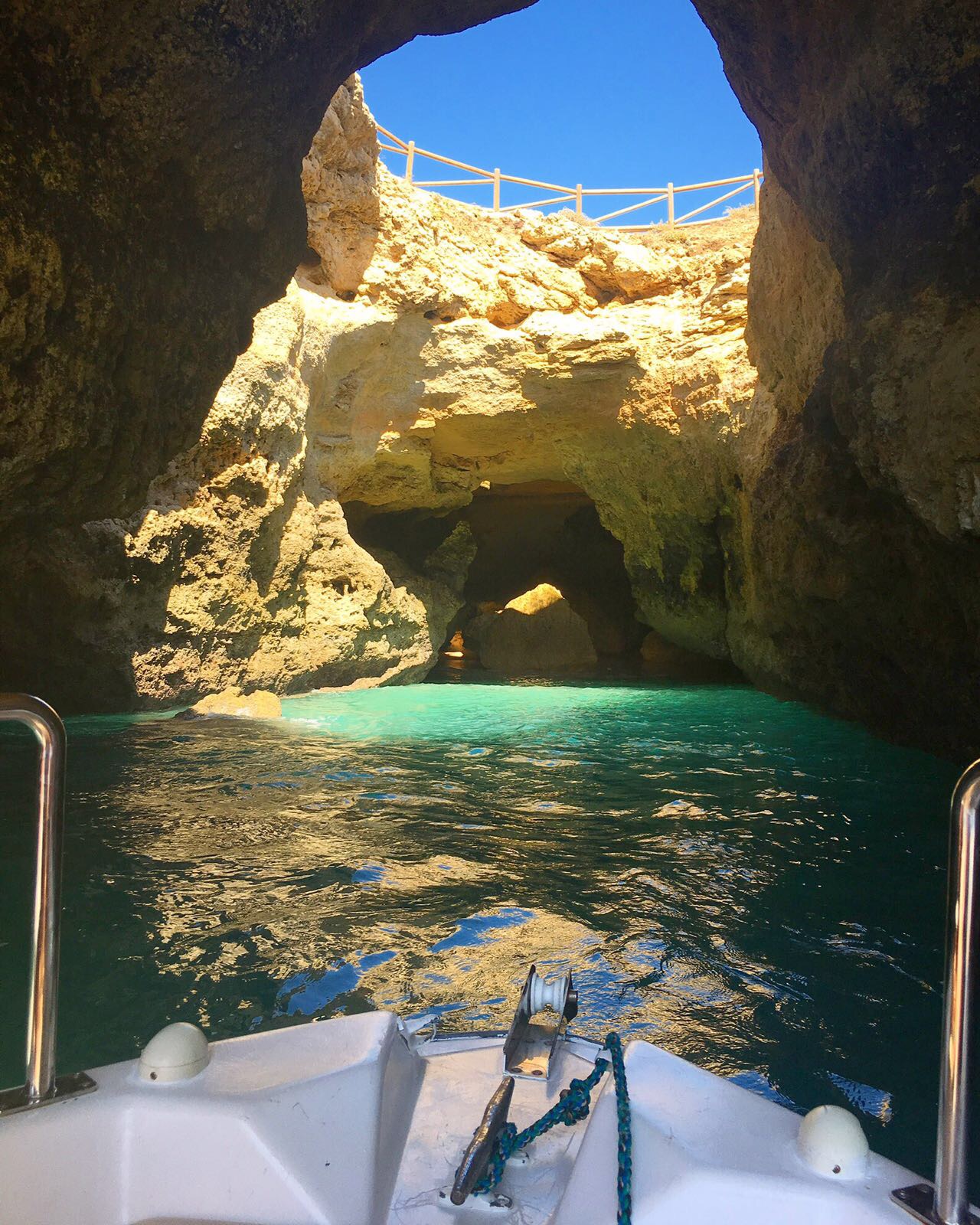 But my favourite would have to be the sunset cruise. It is the same as the coastal cruise but it is in the evening and it's a bit of a fancier affair with bubbles and canapés served to your table on the boat. Perfect for couples or with a group of friends. The drink is flowing and the views are sensational.
Another reason a lot of people go to Alvor and the Algarve in general, is to golf. Unfortunately I'm not a golfer and can't really advise!
If you are a thrill seeker, I'd recommend doing a tandem sky dive! I did it in 2011 and it was such an amazing experience!! Skydive Algarve is in the Aerodome in Montes De Alvor - just on the outskirts of Alvor. It is hard to describe the feeling of free-falling out of a plane but it was the best thing I've done! Then when the parachute is pulled, you're just floating down over the stunning Algarve. Highly recommend it!
There isn't much happening in Alvor during the day and the streets would be quite empty as most people spend the day at the beach or the pool. The beaches are stunning and you can rent a bed for the day for about €10. In August the beaches are just crazy but the beds don't seem to be too busy as the Portuguese and Spanish tend to set themselves up on the beach with their own umbrellas etc.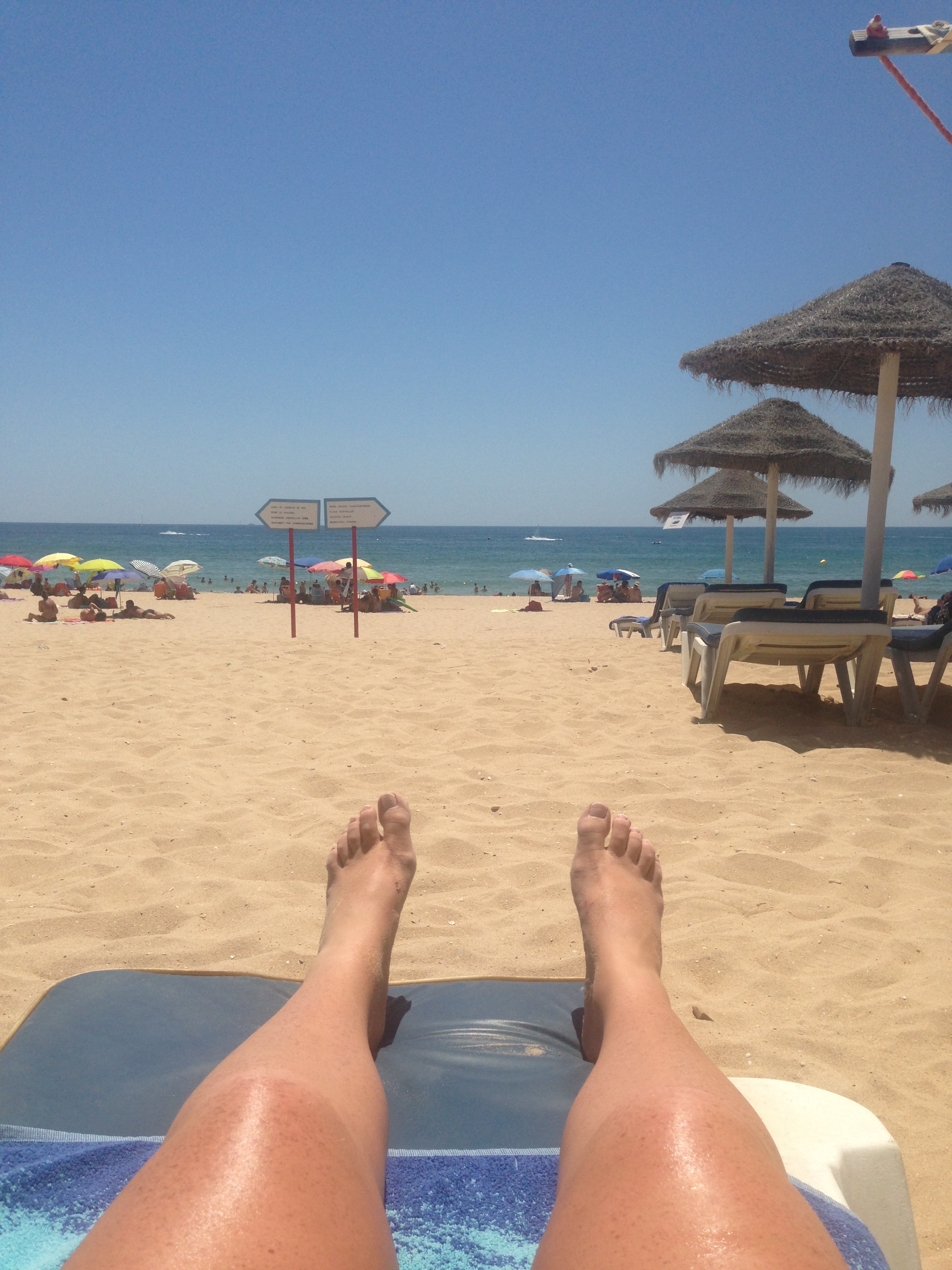 There is a beautiful boardwalk built into the sand dunes along Alvor's beach which is a nice walk with spots of shade for taking a break.
For a really nice day out, I'd recommend going to No Solo Agua. This is a beach club in Praia de Rocha with a pool. It is the typical 'instagrammable' location to make all your friends jealous! But the food and drink are really good! They specialise in Sushi, which I haven't tried, but I love the Quesadillas. If you're feeling fancy, they have an oyster bar that you can swim over to and eat Oysters. It is expensive and, depending on the time of year, you might have to pay a cover charge too. When you go in, you are given a card which is essentially a tab. You pay this when you're leaving but be careful, if you lose your card you have to pay an extortionate figure so make sure to hold onto it! Plus it is hard to keep track on how much you are spending. We usually go for a special occasion but if you are on holidays, that's a special enough reason!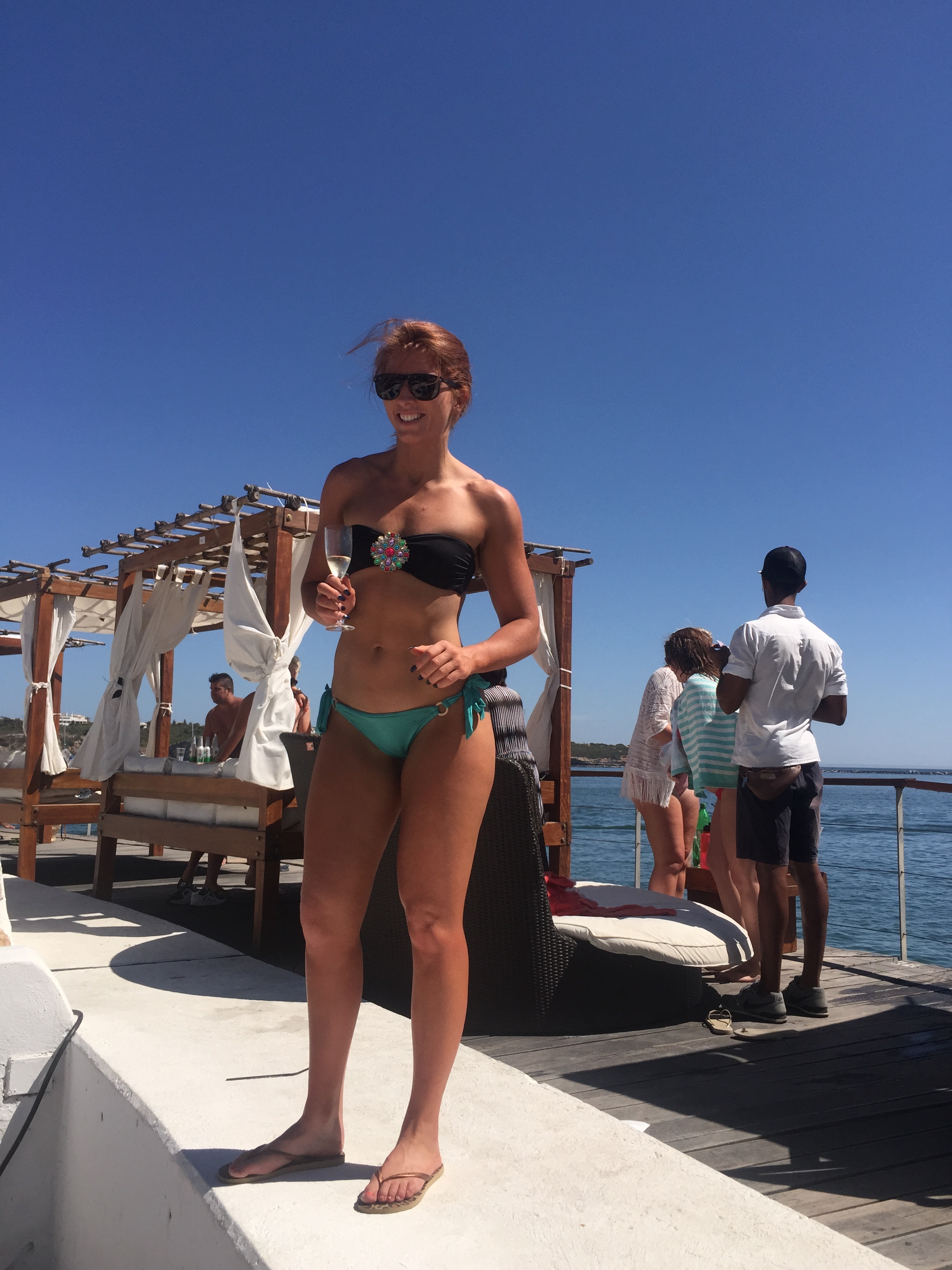 Where to train
Wow, I nearly forgot this part! There is an excellent gym called Buganvilia that is kitted out with Hammerstrength equipment. You can pay €5 for a day pass. It is open 8am-10pm Monday - Friday, 10am-2pm Saturday and closed on Sundays.
So should I visit Alvor?
All in all, Alvor is perfect for families, for couples, for groups of friends. The only time I might advise elsewhere is for people looking for a "wild" holiday e.g. A hen party might be more suitable to Albufeira and it's crazy night life.
So I hope that covers the basics for Alvor and you found it helpful! I'd appreciate any feedback you might have as I dip my toes in the travel blogging field!
Thank you for reading!
Siobhan x