Dubai: Why I loved it but I could never live there
My first visit to Dubai was in 2007. This was when Dubai seemed a lot further away and a much more 'foreign' place. I went with my family for Christmas to stay in a relative's apartment. It was a fascinating place back then and the first time I had travelled East of Europe.
Since Emirates now fly direct from Dublin, it has become much more accessible and it has been interesting to see so many people turn to Dubai for their holidays.
As well as that, I knew so many people who had moved to Dubai. I actually applied for Emirates cabin crew a few years ago as I really wanted to move out there but for a number of reasons I stayed in Dublin. But sure look, everything happens for a reason!
My goal this year is to travel as much as possible and when 'Lisa Dee' posted this picture of Dubai, I went on to Skyscanner and had a quick look at fights. I booked direct, return flights with Emirates for only about €450. I then went on to AirBnB and booked a studio apartment close to the Marina for €350 for 4 nights. I felt that was good value! And the timing was perfect as it was just before Ramadan kicked off.
I read Lisa's blog post about moving to Dubai before I left and it really made me consider it and I hadn't even landed yet!
Here's what I squeezed into 4 days in Dubai
Tuesday
I flew overnight on Monday and landed in Dubai around 8am Tuesday morning. This was a great flight as I slept a lot (waking for food - obviously!!). I got a taxi to the AirBnB where I was met by my host Marnix. The taxi took about 30 mins and cost about 100AED including tip (about €25), although I could have gotten the metro which would have taken over an hour.
The apartment was perfect - a one bed located in the Marina which is close to Jumeirah Beach Residence (JBR - a popular beach area).
I met Lisa and Ruairi and we got a taxi to Nikki Beach Club. Tuesday is ladies day where ladies usually get special offers on drinks but we made a separate reservation for a bed and just paid regular drink prices. The queue was big when we arrived and I was trying to pretend I could handle the heat! Once we got our bed I was delighted. We ordered some cocktails and listened to the funky tunes that the female DJ was playing. I loved the music! We spent the day chilling, eating, drinking, laughing.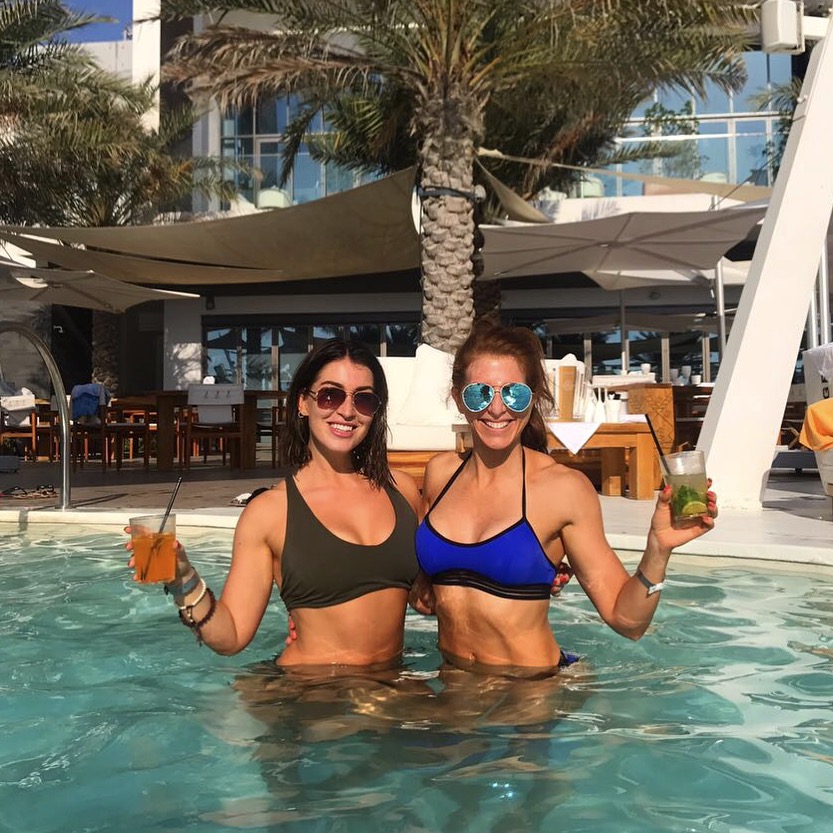 I'd recommend going to Nikki Beach or another one of the beach clubs (I've heard Zero Gravity and Cove Beach are other popular ones) for a real party vibe!
WednesdaY
After having a party day on Tuesday, myself and Lisa decided to start our day with some Iyengar yoga at 7am. This was different to any yoga I had tried before! It was all about using ropes and other props to really stretch and 'lengthen'. I really enjoyed it, especially when I managed to do the butterfly pose upside down! We left feeling exhilarated and a little spaced out as the blood moved up and down our bodies!
On recommendation of several people and Lisa, we went to Eggspectation at JBR for breakfast and it did not disappoint! There was such a huge selection on the menu and you could either go really 'good' or 'bold' (apparently the fluffy pancakes are sensational) but I was feeling 'good' after yoga so I went for eggs benedict with smoked salmon and Philadelphia on rye bread. It came with a side of fresh fruit, which I thought was a little strange, as I accidentally was dipping my bananas in Hollandaise sauce…!
In the afternoon, Lisa, Ruairi and myself went to JBR again to try out the giant inflatable obstacle course - Aqua Fun. The owner, Ahmed, had invited us to try it out. Apparently, because we are fitness bloggers, we would have no problem getting around the course. Unfortunately fitness wasn't as important as good balance and it turns out none of us were much use! Ruairi was the best out of the three of us, in that he didn't spend as much time in the water but we all had several falls and slips! We laughed a lot!! I was surprised how much energy we used and I was glad when Ahmed let us skip one or two of the obstacles. We certainly earned our Fro-yo after that!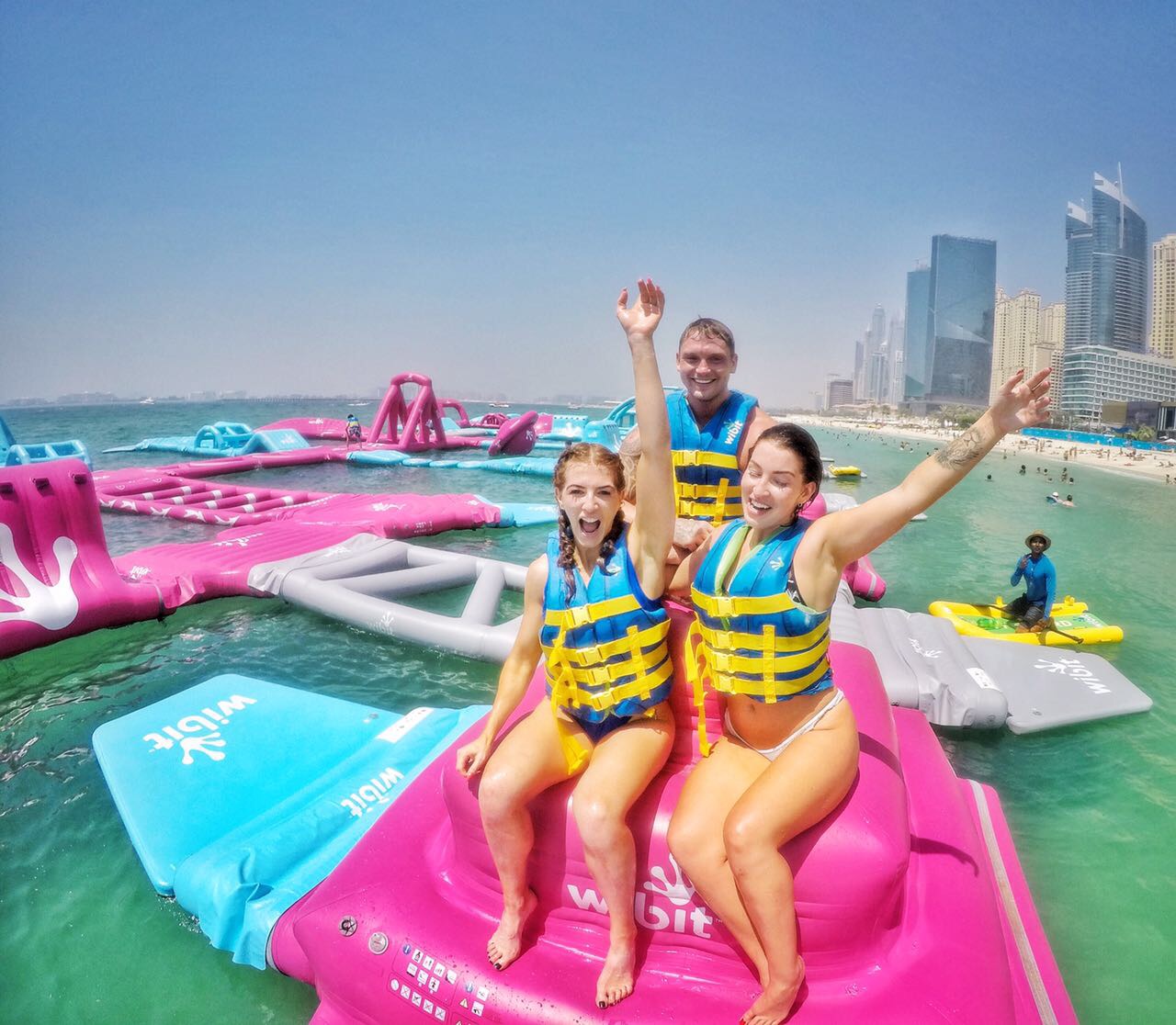 As exhausted as we felt, we managed to squeeze a little more into our day. Lisa and Ruairi, having lived here almost 9 months, had never been up the Burj Khalifa. Lisa went on GroupOn and booked Fast Track tickets for 145AED each (about €35). These were only valid outside the hours of 1-8.30pm so first we went to the Dubai Mall.
The Mall is the biggest in Dubai and we only passed through it. I wasn't looking to go shopping but it was interesting to see it, including the giant aquarium. We went outside to see the fountains and there were so many people trying to take pictures and get a spot to watch the fountains (every 30 mins). However once we kept walking a little further over the bridge, the crowds dispersed and there was plenty of room. There are several restaurants outside the mall and we chose a Turkish restaurant called Gunaydin as they had tables outdoors overlooking the fountains and Burj Khalifa. The food was traditional and it was fine, nothing to write home about, but the setting was amazing and they did do an excellent Virgin Mojito.
After dinner, we went to go up the Burj Khalifa. The queues were crazy and I could see all the time slots were sold out. I thought we weren't going to get up as we had GroupOn tickets which hadn't specified a time. But once we showed them, we were escorted straight into the fast track queue and we were up 'At The Top' in a few minutes.
The tickets we bought, and the standard tickets, entitle you to go to the viewing deck on floor 124. We went out and took some pictures. I was expecting it to feel higher but I think that is because all the other building are also so high! There doesn't seem to be any tour guide or much information given. We enquired about going to a higher floor and we were told that it was an extra 350AED (€75) to go to floor 148! I don't know what happens 20 floors up but we weren't willing to pay to find out! We were delighted we had fast track tickets, as the queue to get back down the elevator was really long. Included in our ticket deal was a pastry and a coffee from the cafe at the bottom and I have to say, the chocolate croissant was probably my favourite part of the 'At The Top' experience.
Thursday
I spent most of Thursday catching up on work but I decided to go check out the Dubai Marina Mall which was a 15 minute walk from my apartment. I was unsure how to dress when going to somewhere like this as I was hearing mixed messages from a lot of people. Now I have concluded that, in reality, 'anything goes' as long as what you are wearing is not too provocative. I wore a pair of 'Mom' denim shorts and a basic t-shirt from Penneys. I was worried about having my knees exposed but once I got to the mall I saw others dressed in short dresses etc.
The Marina Mall has lots of popular shops as well as the usual coffee shops and restaurants. I bought a backpack and sports bra from Reebok and made a big investment into my first pair of Lululemon leggings (probably the most expensive piece of clothing I've bought in years at 550AED (€135). They feel amazing and sure I'll get the use out of them?!
Thursday evening, I went to meet my friend Karl in a bar that he goes to a lot called Nola's in Jumeirah Lake Towers (JLT). We sat in the beer garden but it was so so hot and humid with no breeze. It was also happy hour so I had a good few G&Ts! Special mention has to go to the nuts they gave us at the table! I couldn't stop munching on them!
I was back in the apartment early enough and decided to order some food in. There is actually an insane amount of choice, and that's just on the Deliveroo app alone. I spent so much time browsing that I realised I wasn't even that hungry so just went to shop for some ice cream and chocolate (holiday mode had officially kicked in!).
Friday
Fridays and Saturdays are the weekend in Dubai and Friday is usually the day people would go for Brunch. Brunch is usually a set price for all you can eat and drink! I wasn't really up for a full day drinking myself.
I wanted to squeeze as much as possible into my last full day. I got up early and made my way down to SkyDive Dubai where they have an outdoor workout area. I met my friend Kieran from ko8 fitness and he put me through a sweaty workout in the sun! It was great to look around and see others doing different types of training. Kieran was telling me about the fitness retreats he will be running in Phuket and I am seriously considering trying it out myself!
When I mentioned I was going to Dubai, Kelley from Chill Salon (in the Marina and in Media City) got in touch and offered to do my hair while I was there. It was perfect as I had attempted to do my own hair on Tuesday and it was just crazy frizzy! The salon was lovely and it was so nice to chat to Kelley as she had only moved over two months before hand. She even had one of her friends bring over two Fulfil bars for me! Such a nice touch! She put my hair in a curl and pin to make it last as long as possible.
Friday afternoon, I met one of my old friends Vicky and we went for afternoon tea in The Palace in downtown Dubai with a group of her friends. For 165AED (about €40), you have a buffet afternoon tea (but not with alcohol). This place was pure luxury! All the food was top class and I have to say I definitely got my €40 worth, especially as we got a discount using the Entertainer app (it seems to be an app to get special discounts in lots of restaurants)! I left the place absolutely stuffed and I also enjoyed the speciality iced teas and coffees.
While downtown, my friend Jennifer (who knew I knew so many people in Dubai!) suggested meeting in The Black Lion in The H Hotel as they were doing a late brunch deal (250AED/€60 for unlimited drinks 6-10pm) and her friend Shero was DJing. We had a great catch-up and I had lots of G&Ts. By 11pm I knew it was time to go home and before I got in a taxi, I ordered a NKD Pizza via Deliveroo and raced it back to the apartment (The pizza won - my taxi driver got lost!).
Saturday
After a few days of over indulging, I felt awful! I just spent the morning packing up but I managed to squeeze in a quick HIIT session at the hotel gym before I left for the airport. I would have like to go to Eggspectation again for breakfast (or even order it in!) but I was still so full from all the food on Friday! I got a taxi back to the airport for 80AED/€20.
Conclusion
I loved Dubai. Everything is pure luxury but it does mean the cost of living is quite high. I can see the allure of going out for a couple of years and to earn a good wage and save money as the wages are tax-free. To me, Dubai is quite 'American-ized' - everything is available at any time of the day. There is an app called instashop that delivers groceries so you can get a snickers and a bottle of water delivered to your front door at any time of the day! This sounds like the dream to the lazy part of me!!
If you've never been, I'd highly recommend it but not in the immediate future as Ramadan starts next week (end of May) and goes on for a month, I think. It is a Muslim tradition which includes fasting during the day among some other restrictions. It is also crazy hot during the summer with temperatures reaching high 40s.
Dubai is fun… maybe too much fun?! I was definitely in holiday mode, so I think I might have missed out on the fitness scene a bit but from talking to some of my 'fitness' contacts over there - they didn't seem to enjoy Dubai that much compared to those that like to drink a bit more. It is mostly young expats out there to work hard and play hard. For me, I would find it very hard not to get swept into the 'brunch culture' and forget about the fitness side of things. I feel like I would need extra motivation and discipline to try and live a similar life to what I have at home!
But, I will be keeping an eye on Skyscanner for another good deal and visit maybe in December/January!
Hope you found this helpful or interesting! I want to try blog a bit more about my travels and I thought this format might be the best way to do it!
Thanks for reading :)
Siobhan x