How I came home from Portugal leaner than when I went away
Hey guys!
I'm just back from 4 days in Portugal (Thursday Morning - Sunday evening). I was nervous about travelling while on competition prep but with a great coach (Amanda from RecalibratedBodies.com) behind me I knew I could make it work. Luckily when I checked my measurements on Monday morning, all my measurements and weight were either down or the same which is exactly what I wanted to see.
Let me just say, if you are going away on your only holiday of the year, please don't be this strict on yourself! You've probably worked hard for this trip and deserve to let loose a little. You can pull it back when you get home. I am prepping for a bikini competition in less than 8 weeks time so rather than not going away, I wanted to travel while not regressing.
I had planned on recording a vlog of my trip and I had recorded footage of the first day but somehow broke my memory card! I think I'll put a bit more structure on a blog post to make sure you pick up all the important points. I rarely blog unless I have something I really want to share so it might be worth having a look at some of my older blog posts too.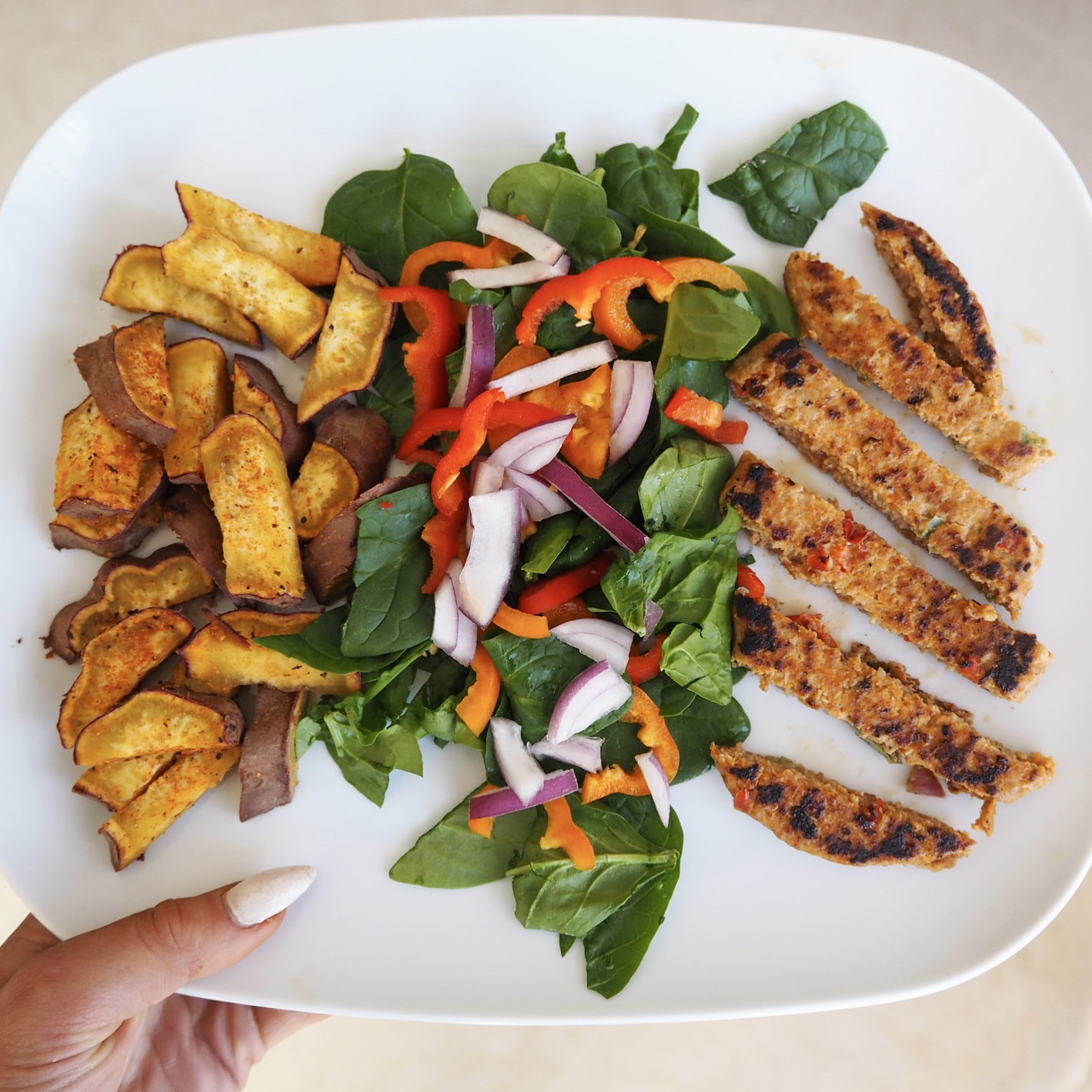 When I was packing, there were a few things I brought with me to help me stay on track:
MyProtein Impact Whey - Chocolate Brownie flavour: High in protein, tasty and very portable. I often get asked if you can bring protein powder in your hand luggage and I've never had any issues!
Peanut Butter: My favourite source of fat and always feels like a real treat. It can be hard to find jars of peanut butter with nothing added to them in Portugal so I brought my own.
Wyldsson Pro Mix: A great topping for your porridge or even just to have as a snack on it's own.
MyProtein FlavDrops - White Chocolate & Maple Flavour: I add these to my coffee to make them sweeter. White Chocolate is my favourite in coffee!
Care Free Smokey BBQ Sauce: I add this to some of my meals for a bit of flavour
MyProtein Zero Noodles: These are a life saver for bulking out your stir-fries for only 7 calories! They are also in a non-perishable packet so perfect for your case.
The Gym Chef seasoning - Tandoori flavour: All good ingredients to add to your meat and veg for lots of flavour
Uncle Bens Boil in The Bag Rice: I thought these would be handier for cooking than measuring rice out to cook and eat.
Biona Extra Virgin Coconut Oil: It's hard to get pure and good quality coconut oil in Portugal so I put some in a tiny plastic tub to bring with me.
Supplements: I brought all the jars that I normally take but I think I need to get a pillbox for next time
Kerrigans Turkey Burgers: I took a pack of 5 out of the freezer just before I left for the airport and they were still frozen when I got to Portugal so I let them defrost and ate them across the three days. I had to share with my sister - she is jealous that they only deliver to Ireland!
Microwave Bags: I got these in Home Store & More and they are so handy for cooking realy quick when you don't want to add any oils for cooking. They create pressure in the bag and can cook meat and veg in less than 5 minutes!
Gym Gear: One pair of runners and three training outfits for the three days. I also packed some gear to do cardio outside but the weather wasn't great.
I thought about the methods I used to stay on track and narrowed it down to these:
When booking accommodation, I try find somewhere that has a full kitchen so that I don't have to eat out for every meal but luckily my sister lives in a great apartment so I knew I would be fine.
As soon as I landed I went to the local supermarket and stocked up on chicken, veg, oats, eggs, fruit and salad.
I would pack my scales except my sister had one. No point in planning everything to a tee and then guessing the weight.
Instead of having a beer when meeting friends or sitting in a nice location; I had a coffee with flavdrops or a water. The view and company is still the same!
I was supposed to have a higher carb day on my first day over but after talking to my coach Amanda about it, I said I would prefer to have a nice steak and chips in my favourite restaurant. We agreed to move the refeed to the Friday and to plan what I was going to have. We even agreed on a glass of red wine to go along with it.
I went out to my friend's bar two nights and rather than having a G&T, I just had a water. I don't think it changed the experience I would have had plus it was great to wake up a fresh head.
I always train in Bugavilia when in Alvor. It's a well-equipped gym but it isn't open as many hours as I like so I made sure to take Sunday as my rest day.
I think I was a little bit more relaxed with my diet. I still stuck to my macros for the day but I wasn't too strict on my macros per meal. On the first night my sister said she was making a chicken curry and she presumed I couldn't have any. I asked what was in it and it was more or less along the lines of the stir fry I had planned. By eating dinner with my family I really really enjoyed that meal rather than eating on my own as usual.
I think the biggest thing I did (or didn't do) was enter 'holiday mode'. I really wanted to prove to myself that I could travel while staying on track towards my goals. For me, Alvor is so familiar that it hardly feels like a holiday. I was working a lot of the time on my laptop so it wasn't like I was lying on the beach and saying no to cocktails and ice cream.
Some staple meals I had to help me stay on track:
Oats & Whey / "Proats": Probably my favourite meal because it is a great balance of protein and carbs and you can vary the portions to suit your macro requirements. It's great for travelling because it doesn't need to be refrigerated. I like to put it dry into my lunch box and then when I go through security I ask for boiling water with my coffee and add it in. I put the lid back on and let the oats soak up the water for a few minutes. I use MyProtein Impact Whey in Chocolate Brownie flavour. Highly recommend this flavour if you're a chocoholic!
Chicken, Sweet Potato & Salad: Available in any supermarket, I presume! I chopped up the chicken and fried it in The Gym Chef tandoori seasoning and coconut oil. I chopped the sweet potato into chips and sprinkled some piri piri seasoning on them and put them in the microwavable bags. I made enough for two meals at one time so I didn't have to be cooking all the time
Turkey Burgers & Sweet Potato: As above but I used the BK Flamers instead of chicken
Eggs: So versatile and available anywhere. Great source of protein and fat or if you want to reduce your fat intake you can just use the whites. For one of my meals I had 3 eggs scrambled and cooked in coconut oil and served with a slice of granary bread that was on MyFitnessPal.
Fish & Potatoes: Alvor is great for fresh fish so when I wanted to go out for dinner with my friends we agreed to eat at the local market restaurant (This is the kind of place that Nandos is based on - chicken piri piri and chips except half the price!). They also do fresh fish and I enquired what it was cooked in. I was told they just add salt to the fish and a tiny bit of oil to make sure the fish doesn't stick to the grill. I ordered this and it came with salad and boiled baby potatoes. I eyeballed the 150g I had planned for and gave away the rest. Such a tasty meal!
So that's it! I am so happy that I have finally proven to myself that I can travel and stay on track. So much so that I've booked flights to go back before the competition!
Let me know if you use any of my tips and please share your own tips in the comments if you have any!
Thanks for reading :)
Siobhan x
PS. If you are interested in online coaching, check out ohfitness.ie/take-action